DIY Organic Face Mask Recipes That Are Totally Edible
Putting on too many chemicals on our face can make it look like very dull and tired. You must have a plethora of cosmetics and skin treatment products lying around, but none of them are able to give you a long-lasting glow. They will work for a short time but eventually harm your skin, ripping it off its natural glow and sheen. If you wish to get that glow on your face with a happy supple and smooth skin, here are some simple DIY organic face mask recipes that you will love to try.
The best part is that all these recipes are completely edible and don't let any leftovers go to waste. Instead, lick the bowl clean and make your insides a bit happier as well.
Coffee Face Mask

If you're looking for a way to liven up and brighten your dull complexion, this mask is calling your name. Here are some variations that you can try with coffee.
Coffee Powder, Cocoa Powder, Milk, Lemon & Honey Face Mask


The coffee helps reduce inflammation and redness as well as exfoliates dead skin cells. Plus, the caffeine in the coffee promotes blood circulation, which helps reduce dark under eye circles. The cocoa powder is packed with antioxidants and sulfur, and sulfur is great at fighting acne. Milk contains lactic acid, which is an exfoliator; amino acids, which hydrate the skin; and the natural enzymes found in milk are amazing smoothing agents. Lemon juice is packed with vitamin C, which lightens, tightens, and brightens the skin and honey locks in moisture.

INGREDIENTS:
1/2 cup ground coffee beans
1/2 cup unsweetened cocoa powder
1 cup of whole milk (or unsweetened almond milk)
1 Tbsp. of lemon juice
1 Tbsp. of honey

DIRECTIONS:
Mix the ground coffee and cocoa powder in a bowl. Add milk until you create a paste. Then fold in the lemon juice and honey. Apply to clean skin and relax for 20 minutes as it dries. Wash off with warm water then hydrate your face with an oil-free moisturizer if needed.
Coffee Face & Body Polish
INGREDIENTS:
- 2 tablespoon coffee powder
- 1 and 1/2 tablespoon brown sugar
- 1/3 tablespoon olive oil or honey ( watch the quantity while adding)
DIRECTIONS:
Mix coffee powder, brown sugar in a bowl. Add olive oil or honey in small batches to maintain the consistency. The body polish needs to be slightly damp like mud. Don't make it too runny. You can store it in a jar for about 1 month. Scrub your skin, face to toe twice or thrice a week before taking bath. This will make your skin glow getting rid of all the dead skin and blackheads. Caffeine in coffee will replenish your skin, sugar will help in exfoliation and olive oil or honey will add that much-needed moisture to it. You can use it after using soap or body wash to maintain the moisture level in your skin.
Here are some other helpful coffee masks that you can use according to your skin needs.
Face mask for smooth and clear skin, use coffee and milk.
Face mask for a firm and tight skin, yoghurt, coffee and honey.
Face mask for bright and glowing skin, use coffee, turmeric and yoghurt.
Papaya and Honey Face Mask
Need a super simple facemask that will leave your skin glowing? Then this one's a winner.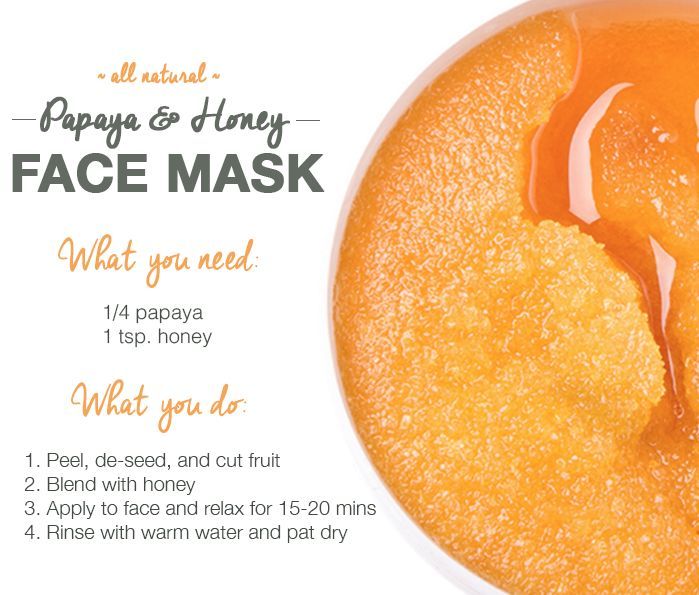 Papayas contain a very powerful enzyme called papain which not only heals irritated skin, but is also a fighter of free radical damage as well as a wonderful exfoliant. And the honey will send tons of moisture back to where it belongs.
INGREDIENTS:
¼ papaya
1 tsp. honey
DIRECTIONS:
Peel a ripe papaya. Remove seeds and chop into small pieces. Put fruit and honey into a blender and blend until a soft, smooth paste is formed. If you want to brighten your complexion, add a few drops of lime juice. This mixture is very runny and messy so you might want to prep your clothing and area to accommodate for drips. Massaging mask into your face for a few minutes enables the enzymes to penetrate your skin. Relax for 15 to 20 minutes. Rinse off with warm water and pat your face dry.
Raspberry, Oatmeal, and Yogurt Face Mask
This is the perfect mask for when you need to exfoliate and hydrate your skin all at the same time.
Raspberries are incredibly potent superfoods that are packed with tons of antioxidant and anti-inflammatory phytonutrients. Oatmeal contains antioxidant and anti-inflammatory compounds that soothe dry, itchy, and irritated skin. Plus, oatmeal absorbs oil, which makes it a great acne fighter. Yoghurt will help exfoliate your skin. And the honey and olive oil will add much-needed moisture.
INGREDIENTS:
10 raspberries
1/3 cup ground oatmeal
1/3 cup plain Greek yogurt
1 tsp. honey
A few drops of olive oil
DIRECTIONS:
Mash raspberries in a bowl then mix all ingredients together to form a thick paste (use less oatmeal if you want a thinner mask). Massage mask into your face and leave on for 15 to 20 minutes. Wash off with warm water then hydrate your face with an oil-free moisturizer if needed. Blueberry Face Mask
If you're looking for a way to exfoliate your skin while nourishing it with super antioxidants, this mask is for you. While the sugar gently polishes away dull skin cells, the blueberries pamper your skin with vitamin C, E, and a ton of antioxidants, while the honey adds back in a ton of moisture.
INGREDIENTS:
1/3 cup blueberries
2 Tbsp. honey
1 tsp. superfine sugar
½ tsp. green tea
DIRECTIONS:
Mash blueberries with a fork in a bowl. Stir in honey, sugar, and green tea. Mix well then massage into your face to polish off dead skin cells. Leave mask on for 15 minutes then rise off with warm water. Moisturize with an oil-free lotion afterwards.
Pretty simple masks for a simply prettier you. And there you have it—four super effective, super easy, super yummy, superfood-packed face mask recipes that you can whip up in no time. Chances are, you probably already have most all of these ingredients in your kitchen. So what are you waiting for? Stop reading—and start mashing, stirring, and blending. (And if you're hungry, start snacking too!)
What are your skin secrets? Share with me in the comments below.
Lots of Love!!!
XOXO